Two Peas, for us, is the means to a solution. An answer to a very old problem.
Problem - How do people find someone for
marrying
or a
live-in relationship
when our society has not risen as fast as our economy? Even today when looking for potential mates constraints such as religion and caste are the basic filtering criteria. If that matches then the question of how much the two people earn comes next followed by what they studied. Somewhere in there, depending on people's priorities, what the other person looks like...you know what! We are finding it hard to go through this rhetoric we hear every day. Why don't we just show you something funny.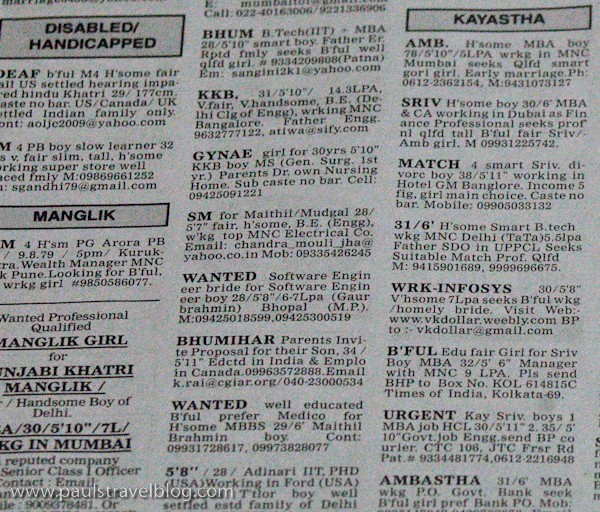 I think this picture might literally have a thousand words.
So you get what we mean right?
Now for people who do not care about these constraints and just want to find someone he/she likes - it can get challenging! For them going through the conventional matrimonial sections or agencies is not really an option. Where do they turn to find someone who thinks like them?
Two Peas
is a community for such people. It is a platform where men and women can honestly talk to each other under the safe (and secret) cover provided by the Internet. A place where (hopefully) they will not face the kind of continuous disappointments they do when searching for a wife or a husband only because they are valued as lesser under almost meaningless societal conventions.
If it is easier, think of it like I do - it is a place somewhere between a 'love-marriage' and an 'arranged-marriage'.
We also understand that a marriage is not for everyone. It is not that these people don't want to spend their life in monogamous relationships - its just that they are not great believers in the institution of marriage. We also welcome them to join Two Peas.
At Two Peas we do not recommend any one way through which our members should meet or carry on with their courtship. We just bring people together and what happens after that is none of our business (no really!).
We also have a strong bias against the current arranged marriage system (as if you didn't notice that already!) but we are not here to preach any one way of living life. Our biases are our own. We will strongly encourage the use of Two Peas for the more 'open-minded' and we hope that we will create a unique community here where everyone is welcome.
So get our there and look around. Approach people. Talk to everyone. Discuss your opinions.
And most importantly - find someone who will like you for who you are.